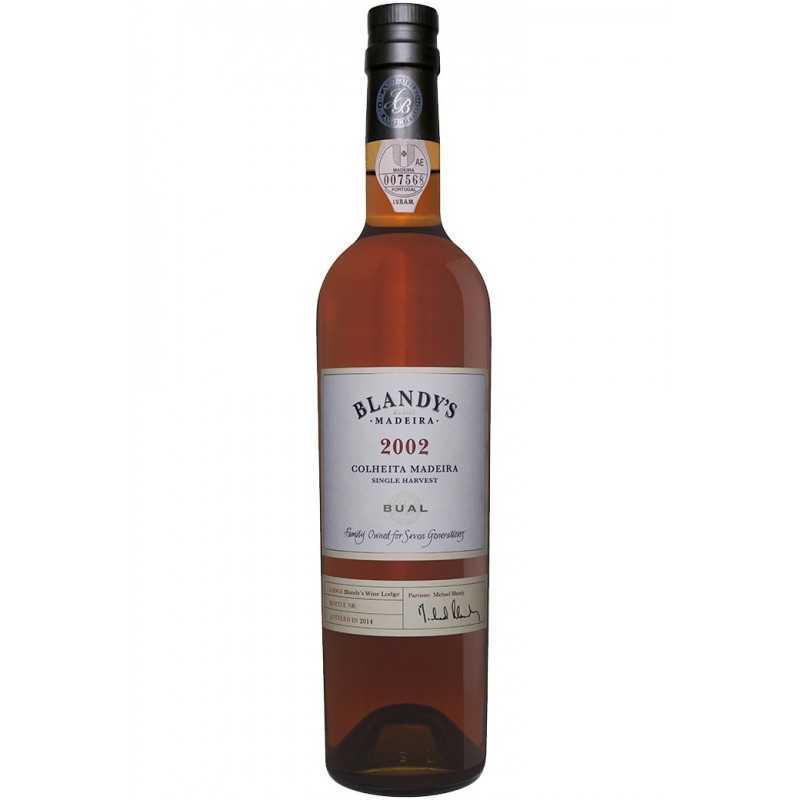  
Blandy's Bual Colheita 2002 Madeira Wine (500 ml)
John Blandy, the founder of Blandy's arrived in Madeira in 1808. In 1811 he founded his own business as a wine shipper and general trader, with brothers Thomas and George, and started to set the foundation for the family and the island itself with the production of the most famous and unique wine in the world – Madeira wine

Security policy

Delivery policy

Return policy
John Blandy, the founder of Blandy's arrived in Madeira in 1808. In 1811 he founded his own business as a wine shipper and general trader, with brothers Thomas and George, and started to set the foundation for the family and the island itself with the production of the most famous and unique wine in the world – Madeira wine
Data sheet
Region

Madeira

Tasting Notes

Bright golden color with golden green tonality, characteristic bouquet of wood with exotic woods, dried fruit, dates, vanilla, cocoa and roasted oak. Sweet and full bodied with long and fresh caramel and vanilla finish.

Enjoy

It is an excellent accompaniment to desserts, especially fruit cakes, apple crumble or pecan pie and hard cheeses

Bottle Size

500 ml

Country

Portugal

Type

Fortified

Year

2002

Weight

1.5

Cast

Bual

Alcohol

20%

Vinification

It passed through a fermentation without films, with natural yeasts at a temperature between 18 to 21°C with controlled temperature.

Total Acidity

6,75 g/L

Wine Maker

Francisco Albuquerque

Ageing

Aged in 5 hooves until November 2009 and transferred to 4 hooves, where it aged until bottling in 2014.
Related products
No related products at this time.
arrow_upward